ADVENTURE! PHILOSOPHY! MYSTERY!
Classic Stories, Biography, and beloved fairy tales!
There's always something fun and interesting to read
at the FREELOOK BOOKSTORE
The classic Oriental text that Shows the Way:
The Tao-Teh King (Also written as "Tao Te Jing" and pronounced "Dow.")
Attributed to the Chinese scholar Lao-Tzu (6th century B.C.) and codified over 2,000 years ago, the Tao-Teh King contains between 5,227 and 5,722 words and is often called the 5,000-character classic. It is considered by many people to be one of the great philosophical texts of the world. Can it help you find your Way in the world?

Tao 2, a central tenant of Taoism:
The wisest person trusts the process
Without seeking to control; takes everything as it comes,
Lives not to achieve or possess,
But simply to be
In Harmony with Tao.
Read it at the Classics Club...

Kim
by Rudyard Kipling
This brilliant and exciting tale of espionage on the borders of India, tells of an English orphan, growing up on his own in the streets. Befriended by a Tibetan monk, Kim is sent to school and while still a boy is enlisted into the secrets of "The Great Game" that undertakes to guard the British protectorate from invasion. His mission spans half a continent — from the steamy coasts all the way to the frozen slopes of the Himalayas. Through dangers and temptations he guards his beloved friend and earns his rightful place among the brave and secret players of The Game!
Read it at the Classics Club...

The Autobiography of Benjamin Franklin
Franklin was one of the most capable and original minds in all of America's history. A printer, a writer, an inventor, and a brilliant politician, he helped to draft the Declaration of Independence and the Federal Constitution. He was more than famous in his own time as a diplomat, a wit, and a sage, and he was trusted by all who knew him. This brilliant, small autobiography shows you how and why!
Read it at the Classics Club...

The Circular Staircase & The Man in Lower Ten
Both by Mary Roberts Rinehart
Mary Roberts Rinehart (1876-1958) was a popular and prolific writer of romantic mysteries. Trained as a nurse, and married to a physician, she turned to writing in 1903 when her family was in financial difficulties. These mystery-romances, of the "Had I but known" school, are superb examples of their type, the best-known examples of by a master of the craft. The Circular Staircase and The Man in Lower Ten are her most popular mysteries.
Read it at the Classics Club...

An Old Fashioned Girl
By Louisa May Alcott
Although not as well known as Little Women, this is one of Alcott's most charming and appealing books. Polly's humor and good will in the face of her troubles endears her to every reader, and later scenes include a powerful plea for the "Emancipation of Women" that resonates with present-day feminism.
Read it at the Classics Club...

The Red Fairy Book
Wonderful classic stories of magic and mystery complied by Andrew Lang
There was once a man who had three sons. The youngest of them was called Dullhead, and was sneered and jeered at and snubbed on every possible opportunity.
One day it happened that the eldest son wished to go into the forest to cut wood, and before he started his mother gave him a fine rich cake and a bottle of wine, so that he might be sure not to suffer from hunger or thirst.
When he reached the forest he met a little old grey man who wished him "Good-morning," and said: "Do give me a piece of that cake you have got in your pocket, and let me have a draught of your wine — I am so hungry and thirsty —"
Can you guess which son will respond kindly to this question, and be blessed with the talisman that helps him earn his fortune?
This collection includes over thirty splendid tales, many of them told with broad humor.
Read it at the Classics Club...
To read these and many, many other great classic novels, login at the FREELOOK BOOKSTORE Classics Club right now!
NOW! YOU CAN READ THESE BOOKS ONLINE!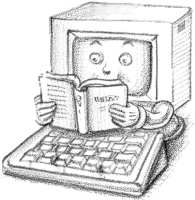 Exciting Mystery-Novel: Read online for FREE!
Society of Sidewinders
by Don Davison, writing as Jack Wiley
— Can you root for a cowboy who just can't tell the truth, even to save his life? Then rev up for blazing guns, a pack of double-dealing bad guys, gold fever, a dark secret, and a thrilling mystery.
A Great Fantasy Novel: Still FREE! Only here!
The Falcon.
by Ana Jorges
— Long before there were books, even before there was writing, we humans began to dream and tell each other tales of wonder. Such stories are with us still — making us shudder, firing the imagination, and giving us hope.
Ana Jorges Fan Site!
Miss April May's Hot Tips! In One Place! Still FREE! Check out her website!
You have finally found it! Yes, Way down here!
— Our amazing Miss May has published her life tips, and you are one of the chosen few to read them. Go forward! Your life won't be much like it was, we don't think! (It will be instant evolution.)
Miss April May's Hot Tip Archive!